Smith Snow Goggles Dealer
We carry some of the finest Smith Snow Goggles for any kind of skiing and snowboarding conditions.  Multiple lenses to adapt to the diverse skiing and snowboarding lighting and weather.  Come in and browse our inventory here in our new store location. 
Local Ski & Snowboard Sales Shop
Vision Technology
Quick-release lens change system. Includes bright light and low light performance mirror lenses. Spherical carbonic-x lens, 5X™ anti-fog inner lens. TLT lens technology for crystal clear vision. Patented Porex™ filter prevents optical distortion during changes in elevation
Turbo Fan
We employ patented micro-electronic fans in the Turbo Fan Series to actively promote the circulation of air even when the user is stopped. Turn the fan on when you get to the hill and in the low setting, the Turbo Fan system will run continuously all day long to exhaust moisture from inside the goggle.
Ski Goggle Collections
Each goggle in the collection includes both a bright light and low light performance mirror lens, providing clarity in any condition. The Interchangeable series represents the culmination of Smith's 50 years building, testing and refining goggles.
Goggles provide eye protection from elements
Styles, Airflow, Classic, Cylindrical, I/O, Over the Glass, Spherical, Turbo Fan.
Lens Technology, ChromaPop, Non-Polarized, Photochromic, Sol-X
Styles, colors, and sizes for men, women and kids snow goggles.
Smith Best Goggle Choices
Smith Goggles
Choices for 2019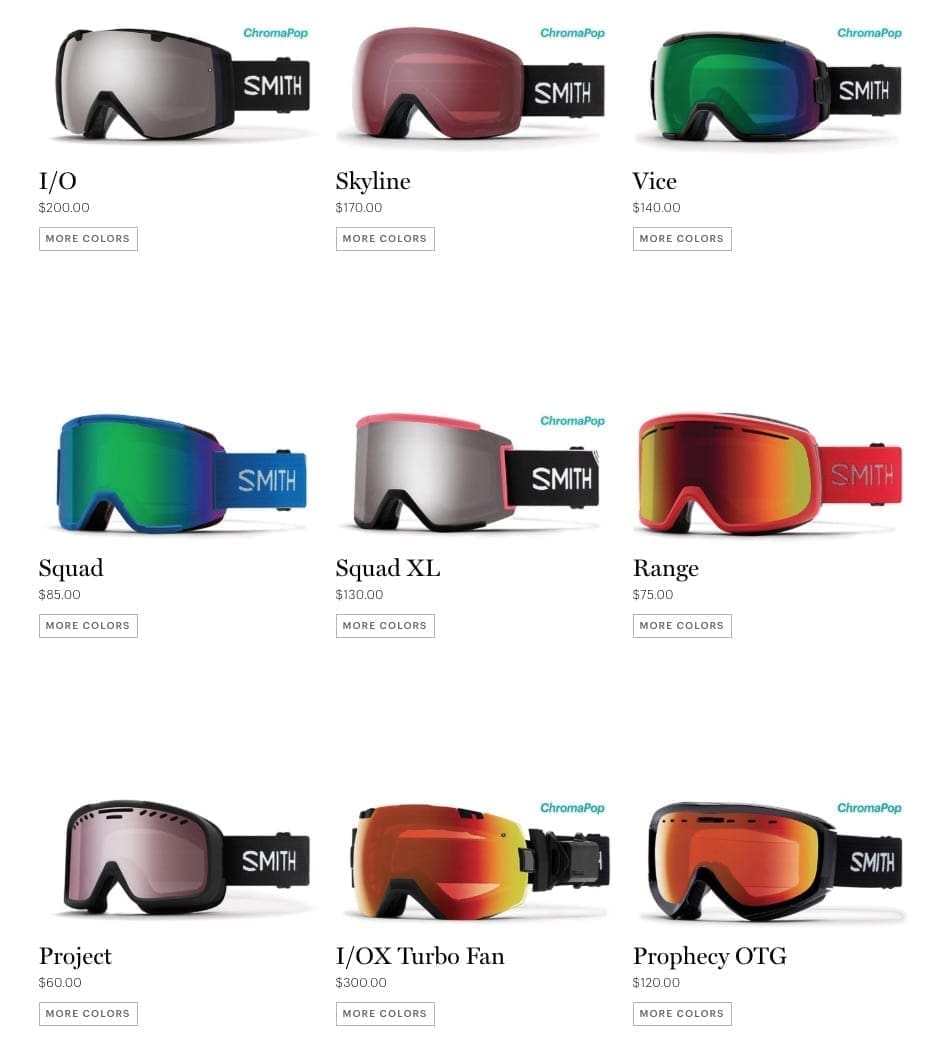 Ski Barn Hours
Monday - Friday:  10-7
Weekends
Saturday:  10-6

Sunday:     12-6
166 Milk Street, Westboro, MA. 01581
WestMeadow Plaza